In the early 1990s, when we were young winemakers, my husband, Laurent Delaunay, and I would find ourselves imagining a range of pleasure-bent, delectable, aromatic and flavourful wines that would speak the universal language of their varietals and be accessible to all wine lovers, whether they be neophytes or connoisseurs. This range would be named
Les Jamelles
: a feminine name, to evoke the roundness of our wines, in the
plural
form to reflect the diversity of the varietals, and
melodious
to recall their roots in the Languedoc, land of the troubadours.
Today, Les Jamelles wines make up one of the largest collections of varietal wines from the south of France and are enjoyed in over 40 countries. They are renowned for their exceptional value for the money and pleasure factor, their wide appeal, and the fact that they can be enjoyed on all occasions. Our initiative has proven to be a great success and we thank you more than ever before for your loyalty!
To guide you through the discovery of our wines and our universe, we wanted a website accessible, practical and rich in content. We wish you a good navigation and hope that you will have beautiful encounters there…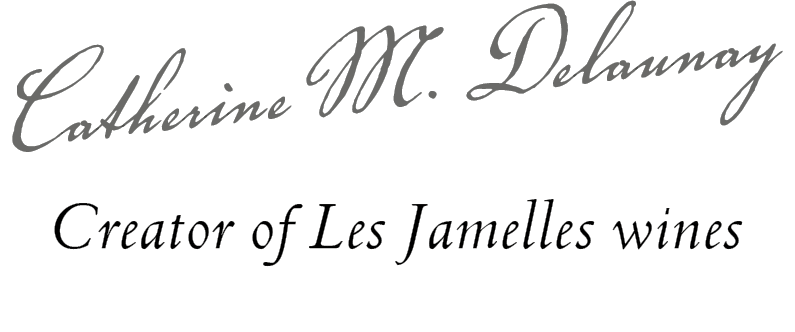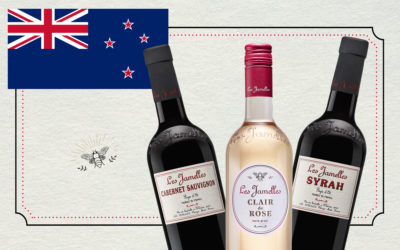 Just arrived in New Zealand, our Les Jamelles wines seduce local wine critics ! Syrah 2018 4 ½ stars (91/100) Sam Kim's Wine Orbit 4 ½ stars The Wine Writer 4 stars (17.5/20) Candice Chow Sommelier merlot 2018 4 ½ stars (90/100) Sam Kim's Wine Orbit 4 ½...

Do you know where
the name"Les Jamelles"
comes from?
Made up of two-thirds of Chardonnay and one-third of Viognier, this Selection Special is one of the rare blended cuvées in the Les Jamelles range.
Chardonnay is an international grape variety, coming from Burgundy such as Catherine Delaunay. It is a grape that produces complex and elegant wines.
Viognier, also of international fame, owes its success to the Rhone wines. It is one of the favorite grape varieties for white wines in the Les Jamelles collection.
The combination of these two grape varieties gives a complex wine full of freshness, with praline and buttery notes, aromas of candied lemon and orange peel in a long and round palate!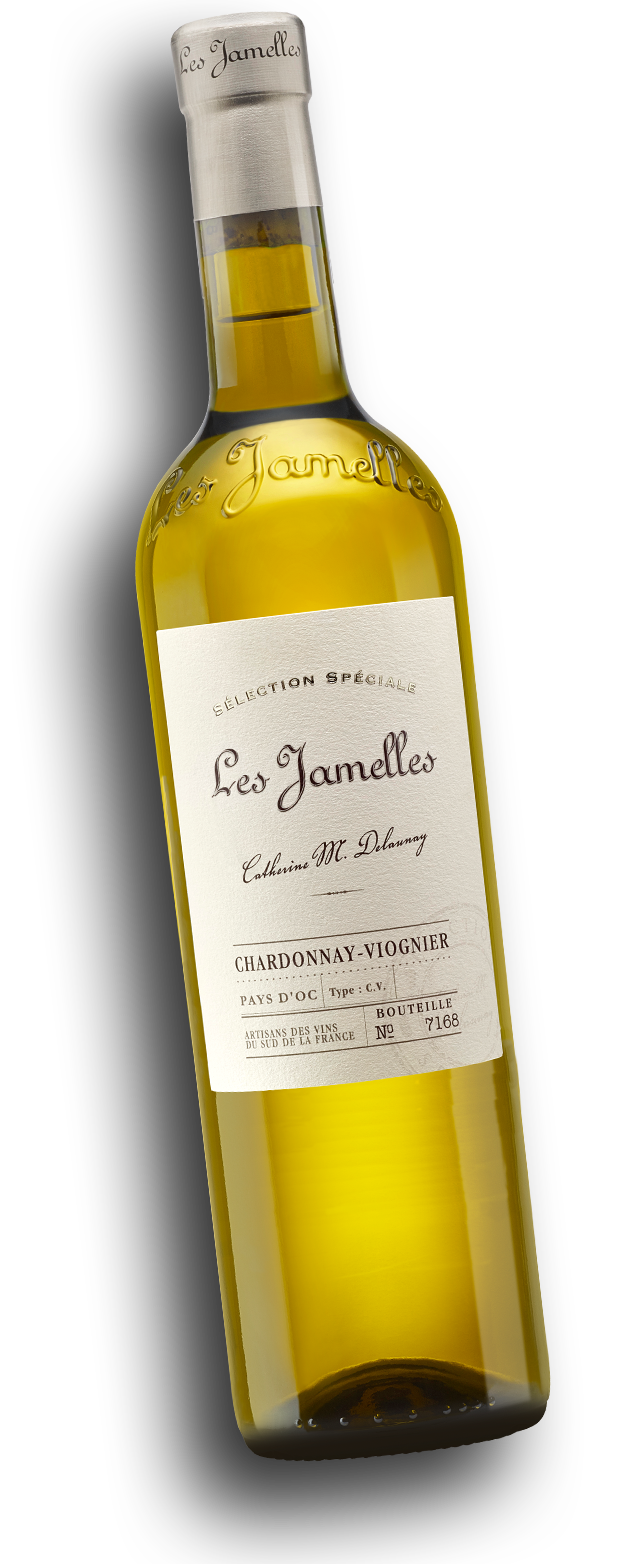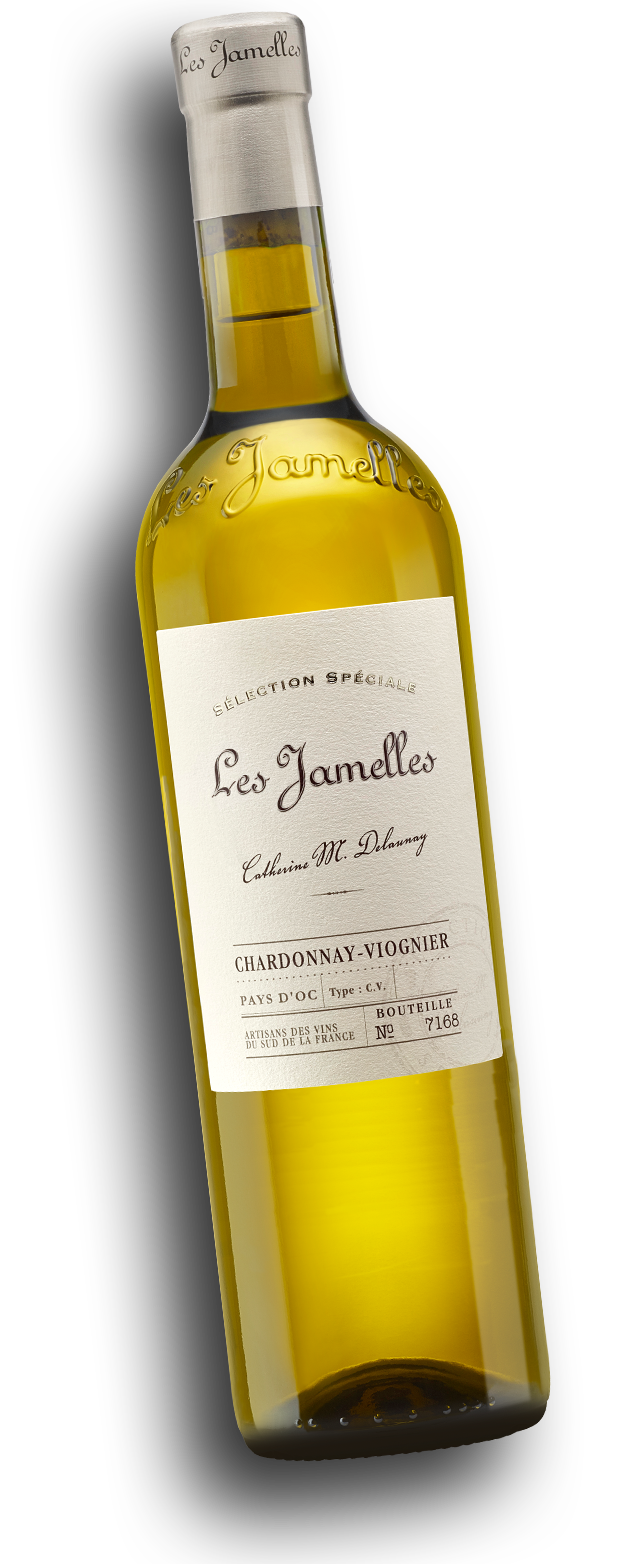 The history of centuries-old Pinot Noir grape variety is closely related with the one of its original land, the Burgundy region – such as Les Jamelles Burgundian winemaker, Catherine Delaunay.
The reputation of great Burgundy wines has brought this varietal to the international success that it actually enjoys in Germany, United States, South America, New Zealand, Australia, South Africa…
Pinot Noir is one of the five most planted grape varieties in the world. Surprising when you know how fickle and hard to cultivate it is! It is indeed really sensitive to diseases in cold and wet areas. And because of its early development, it is sensitive to spring frost.
In the Languedoc region, the Pinot Noir finds a great diversity of sun-drenched terroirs to flourish and reveal its full potential.
The grape has dark skin and white pulp and produces fine and delicate wines with silky and soft tannins and a generous and complex aromatic palate. The wines are suitable for ageing.
Our Pinot Noir Les Jamelles reveals delicious aromas of red and black fruits, hints of vanilla and a perfect balance!
Discover our new cuvée, 
Grenache Gris La Lauze du Moulin, 
th only white wine of the Sélection Parcellaire range !